| | Brand | Name | Code |
| --- | --- | --- | --- |
| | SUBARU | Subaru | SUBARU201802 |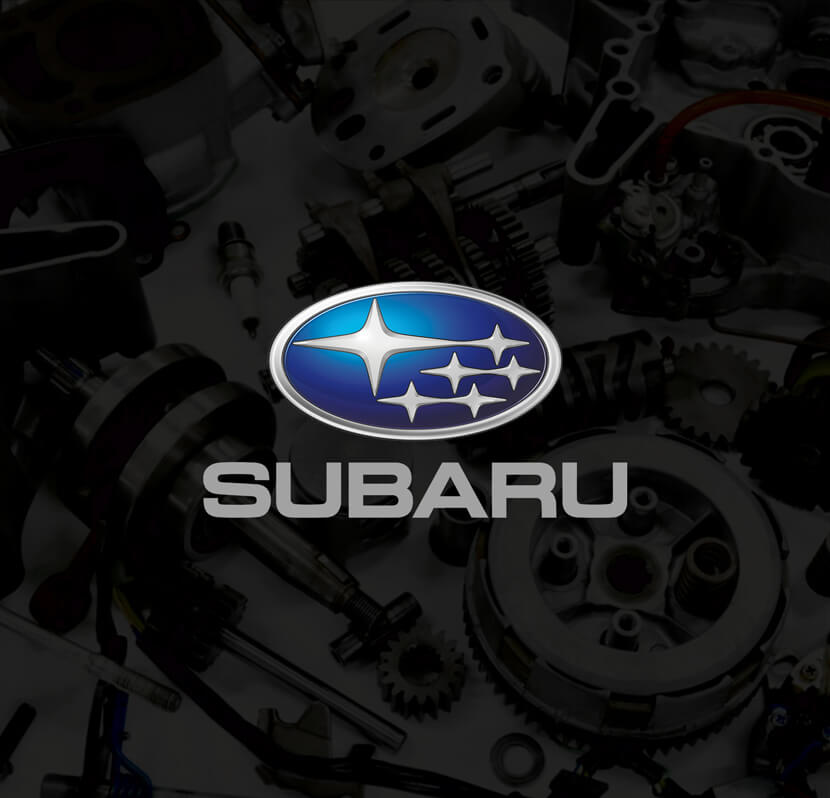 Subaru parts on PartSouq
Subaru is one of the more interesting Japanese brands. Technological and powerful four-wheel-drive vehicles with a laconic stylish design have won millions of fans around the world. A wide range of models allows you to choose the desired car. At the same time, each model is designed for intensive use on challenging routes, is reliable and safe.
Subaru's official divisions are, in fact, Japanese car assembly enterprises. An abundance of spare Subaru parts is presented both at authorized dealers and retail outlets. Licensed Subaru parts for assembly and warranty service of the entire model range are manufactured and supplied by Japanese, Korean and European manufacturers. Small units produce their substitutes, and, as practice shows, such parts serve much less.
It is better to choose original Subaru parts manufactured under license to increase the operational life of your car. They have passed quality control and have the logo of the carmaker. They are ideally combined with all components and assemblies of the car, so the repair will not affect its technical characteristics. The use of certified parts also preserves the market value of the vehicle.
Why use genuine Subaru parts?
According to the production technology at Subaru factories, all manufactured parts undergo strict control for their original quality; this excludes the fact that Subaru parts may have a factory defect. Licensed third-party factories do not provide adequate control over overproduction. As a result, Subaru parts may end up on the shelves of inadequate quality parts. Yes, of course, they are a little cheaper than the original, but their service life may not correspond to the one declared by the manufacturer. Therefore, by giving preference to original Subaru parts, you can achieve maximum vehicle efficiency.
You can buy original parts for Subaru parts online on our website. You can buy Subaru parts for any model at an affordable price. The assortment of components even includes those parts that must be ordered in other outlets and wait until they arrive at the store. Thus, in an online store, you can fix your Subaru not only by saving a little money on buying parts online but also by doing it quickly, thanks to timely delivery.
Components are:
Original. Produced by the manufacturer using patented materials and technologies. They have a proprietary marking. However, due to the low probability of marriage and high quality, they are worth their money.
Used from disassembly. Vendors buy cars for parsing and sell parts in excellent condition at retail. As a result, they are cheaper than new ones from the manufacturer, while they will last just as long. At the same time, new components for some models are no longer officially produced.
Analogs. The technologies and materials used may differ, but the cost of non-original components can be several times lower. The quality can be of any kind; therefore, no one guarantees when installing such spare parts.
How to distinguish genuine Subaru parts from fake ones?
How to distinguish genuine Subaru parts from fake ones? Please note that a standard auto insurance policy will cover replacement parts for functionally equivalent parts if your Subaru needs to be repaired. These are commonly referred to as Aftermarket parts. They are cheaper than new Genuine Subaru parts and are, therefore, manufactured by other manufacturers. If you want the spare parts to be replaced with the same original ones, you should select the appropriate policy. Some policies cover Subaru parts replacement with original ones if the car owner shares all the costs with the insurance company.
Benefits of non-original parts:
Low price. Aftermarket parts are generally less expensive than genuine Subaru parts. Do not be too lazy to go shopping to find the required parts at the best price, or at least to find out their actual cost. Be sure to pay attention to their quality.
Big choice. There are hundreds of companies that manufacture non-original Subaru parts. Some of them specialize in some specific spare parts; some make all kinds of them. More selection means a wider range of prices.
Availability. You can go to any auto parts store or service station, and they will have the parts you need for your Subaru. Also, you have an expanding list of places where you can take your car for repair.
The quality of such spare parts may correspond to the original ones and maybe even better.
The reverse side of non-original Subaru parts:
Different quality. The quality of such parts can be better than original Subaru parts or much worse due to low-quality materials.
No warranty. Some non-original parts are sold without a warranty to reduce the price.
Huge selection. If you are not familiar with manufacturers of non-original spare parts, your choice may be crowned with failure.
When choosing, it is best to stop at the spare parts of the company you have already dealt, or which your auto mechanic will advise you, even if these parts cost a little more than everyone else.
There is a high probability that the purchased parts will be of poor quality. This likelihood is because even a part as simple as a spark plug can be manufactured by dozens of different companies and come in various variations.
Seek advice from an auto mechanic or simply compare with the original part if the price difference is insignificant.
Advantages of Genuine Subaru Parts:
Finding the parts you need is easier. Your Subaru dealer will have one single part that fits you. You won't have to go shopping in search.
No worries about quality. Genuine Subaru parts are identical to those originally fitted to your vehicle at the factory and should work the same.
If you choose to buy original Subaru parts online after finding out all the pros and cons, this will be a balanced decision. Moreover, it is more convenient to buy from an online store. If your insurance policy does not guarantee replacement parts for original parts, you can claim it.
FAQ
The cost of spare parts depends on which dealer you buy them from and whether they are original.
Where can I buy Subaru OEM parts?
You can buy original spare parts online from authorized dealers and representatives of Subaru.
Where are Subaru parts made?
Subaru's manufacturing centers are around the globe. So, you can get spare parts in different countries easily.
Are Subaru parts made in China?
As Subaru parts are made in different counties, you can order them and get them quickly in 1-3 days with PartSouq.