| | Brand | Name | Code |
| --- | --- | --- | --- |
| | MITSUBISHI | Mitsubishi | MMC202203 |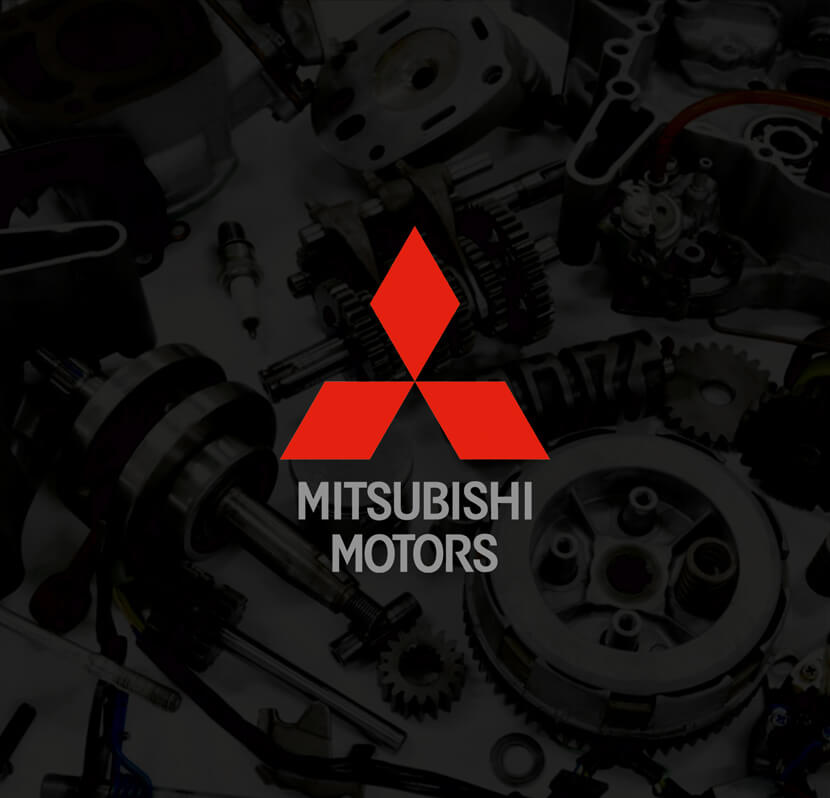 Mitsubishi parts on PartSouq
Mitsubishi's cars have been rolling off the assembly line of the largest Japanese car manufacturer, Mitsubishi Motors Corporation, for more than 45 years and are supplied to 160 countries around the world. Production facilities are scattered over 13 factories, eight of which are engaged in the manufacture of parts.
How popular are Mitsubishi auto parts? Mitsubishi is considered a reliable car manufacturer. This confirms the great popularity of its vehicles, with high sales all over the world. Therefore, the manufacturer has to produce large quantities of original Mitsubishi parts in order to meet the market demand. Does the cost of Mitsubishi auto parts influence buyer's choice? Considering that not every car enthusiast can afford original components, many people prefer to buy not Mitsubishi auto parts, but more affordable analogs from other manufacturers. They are cheaper, but their quality is unpredictable, and therefore the part can be broken at the most inopportune moment. To avoid this and make your car reliable, car service specialists recommend using only genuine Mitsubishi spare parts, which you can find on PartSouq. Mitsubishi auto parts prices depend on the model, originality, and other factors.
Why use genuine Mitsubishi parts?
Original Mitsubishi parts are components that the car manufacturer itself installs at its production and then recommends for warranty and post-warranty service. This is the safest but not the cheapest option when you consider cost. However, supporters of the original are convinced that this is a standard of:
quality
reliability
durability
functionality of parts
And it is impossible not to agree with this. One way or another, all the genuine parts on PartSouq are of high quality. In addition, other aspects can be highlighted:
Have you ever seen an ad for a non-original? The answer is obvious. The fact is that official dealers who produce branded spare parts for Mitsubishi are primarily interested in quality because if an engine breakdown occurs due to one filter, the car manufacturer will simply refuse its services and start looking for a new one.
When using non-original spare parts, the cost of work does not change. Moreover, there are huge risks. Installing original spare parts will never lead to the failure of other parts and assemblies of the car due to them. And it is not just words since any original spare part has mandatory parameters that are installed by the manufacturer of a particular car brand.
How to distinguish genuine Mitsubishi parts from fake ones?
All Mitsubishi parts have a defined lifespan based on vehicle mileage. This is done due to the fact that parts wear out during operation, experiencing stress. Here are some examples of when you need to change parts:
Pistons become unusable when their working surface is completely covered with carbon deposits.
The ball joint breaks when the pin falls out. Mitsubishi auto parts of this type break with a strong mechanical shock.
Shock absorbers loose their properties when the integrity of the oil chamber is broken or the spring is deformed.
The rims are deformed and broke due to strong mechanical stress. If they are light-alloy, these Mitsubishi parts will have to be replaced, because only stamped products can be restored.
It is generally required to buy such Mitsubishi spare parts when they have fulfilled the period declared by the manufacturer. But there are many consumables that must be monitored regularly in the design of the car since they do not have a certain service life and many can fail at any time. The cost of spare parts for a car increases significantly if you have to buy a set immediately. That's why it is recommended to buy auto parts for Mitsubishi before the car breaks down. Our special catalog will help you to choose spare parts for Mitsubishi.
Wherever you need parts, they can be ordered from PartSouq online store. We supply spare parts for many vehicles to 160+ countries, regardless of their model year. Mitsubishi spare parts catalog is presented with original components, which will be delivered to you within 1-3 days. This will help you meet deadlines and get your vehicle repaired quickly.
FAQ
How do I order Mitsubishi parts?
In order to order Mitsubishi parts at fair prices, you should choose a reputable online dealer for this brand. PartSouq is a specialized online marketplace that offers original spare parts for a variety of manufacturers, including Mitsubishi. Therefore, you can order Mitsubishi parts on the website of our company.
Are Mitsubishi parts expensive?
The average annual cost of repairing Mitsubishi, as well as the parts required for it, is indeed more expensive than other vehicles. By today's standards, it is rated above average. And that's why it makes sense to look for the savings that buying from a dealer can provide you. As a result, you will receive an original spare part for Mitsubishi, and at the same time, you will be able to save a lot on it.
Where do Mitsubishi parts come from?
Mitsubishi cars are manufactured in Japanese factories. Therefore, all spare parts for this car brand are supplied from this particular country. By the way, the main share of Mitsubishi parts for more technologically advanced models comes from cities like Kurashiki, Okayama. We can also highlight another city like Okazaki, which is conducting thorough research on these parts.
Mitsubishi is considered a pretty reliable and excellent car for motorists. In the 2020 J.D's Power Dependability Survey, it scores an average of 83/100 in quality and reliability, showing Mitsubishi as a reliable vehicle.