| | Brand | Name | Code |
| --- | --- | --- | --- |
| | DODGE | Dodge | DODGE201802 |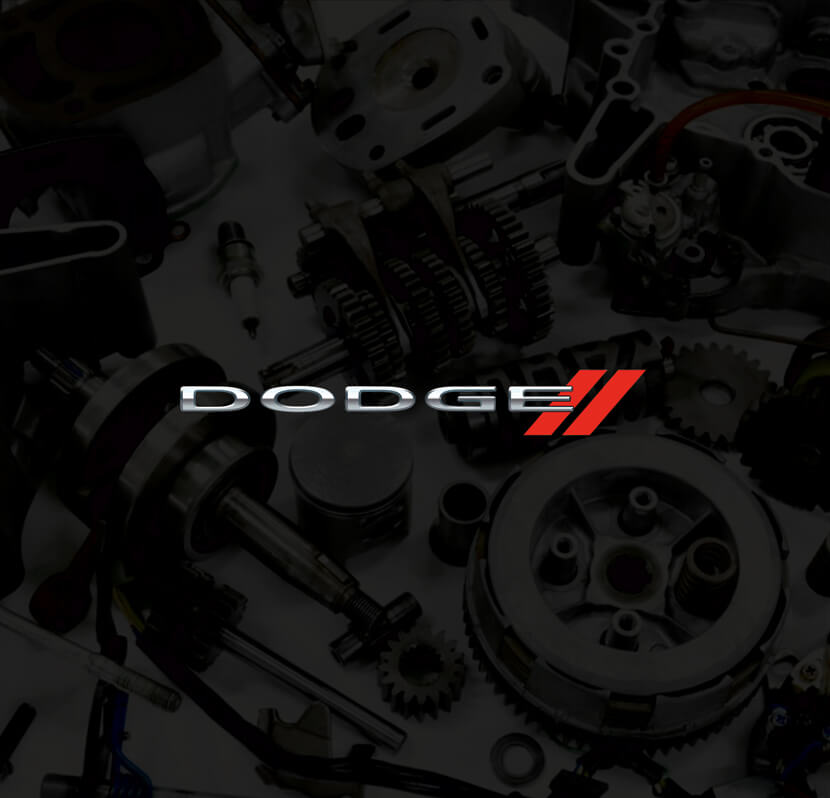 Dodge parts on PartSouq
Almost every car lover is crazy about the beautiful Dodge Challenger, Charger, and Viper, which are directly about the history of American mechanical engineering. While riding a Challenger or Charger, you must admit that such a beast requires a particular approach and original parts only, as it will be challenging to deal with poor-quality details with the herd of horses under the hood of a powerful Dodge.
The Dodge company, ruled by Chrysler, provides fans with varying cars of different calibers, from wild muscle cars, which are famous and wanted worldwide, to powerful RAM trucks, which are also in demand. Furthermore, Dodge cars are presented in many variants to meet anyone's needs and suit any budget, varying by engine size and salon package.
You should find a reliable partner to work with to make your purchase pleasant for a long time, preventing you from a headache caused by regular car repairs. We, an original Dodge parts dealer, provide our customers with 100% genuine spare parts.
The common problem of every driver is a polluted market with many fake manufacturers, which provide poor-quality parts which directly affect your driving performance. In this article, we will talk about determining original auto parts from fake ones. Check out the info below to discover why it is necessary and how to select genuine car details.
Why use genuine Dodge parts?
Better driving performance. Mopar OEM parts for Dodge have been specifically approved by Dodge to fit factory specs for optimal functionality, including ideal levels of performance and efficiency.
Endurance. What makes Dodge OEM parts, we want to note they may cost a little bit more upfront, they are built to be durable, last longer, and save you more in the long term. And because they are built to factory specs, you're less likely to get wear and tear on other interrelated parts.
Warranty available. When you buy Dodge OEM parts, you'll be getting a product that comes backed by the manufacturer with warranty coverage.
Using genuine parts for Dodge means taking care of your steel horse, making the driving performance more pleasant and the durability of details longer. While talking about the economy, you can buy cheaper food or clothing, which can help you save some money, but you can also buy fake auto parts. Although they are offered at a sweet price, one day you will have to spend all your earnings on repairing your car at the worst possible time. On the other hand, keeping your car 100% original is about aesthetics; even more so, if we are talking about premium models, which are appreciated for their uniqueness, as Dodge cars are something more than a pile of metal.
Also, you need to realize that genuine parts for Dodge will let you spend less money as they will not require frequent repairs, which often occurs with fake parts. As for main parts, the same goes for consumables, which will provide you with a feel of comfort for a longer time, while fake parts can be more affordable but dangerous at the same time. Check out the info below to discover what fake Dodge parts can cause.
How to distinguish genuine Dodge parts from fake ones?
Original manufacturer signs. All the genuine spare parts from the OEM/OES come with a unique serial number, hologram, and QR-code, which can help you to ensure the product is original.
RFID Tags. You can trace OEM Dodge parts by RFID tag, especially when we are talking about expensive ones.
The difference in action. Fake Dodge parts do not perform like genuine ones; furthermore, they underperform during extreme conditions like drifting or burnouts.
How can fake Dodge parts be dangerous for you?
Risk of engine failure or fire. Fake auto parts like spark plugs, drive belts, air filters, and valves can cause an engine failure or, even worse, a fire, as they are binding for a reliable work of the engine, and the bad quality of its components may be dangerous.
Windshield strength. As you can guess, genuine parts for Dodge were made by specific standards, such as load-bearing capacity, instead of counterfeit ones; that is why such fake windscreens may crack under load and can even damage the driver and passengers.
Brake failure. While talking about auto parts, your safety is mainly affected by the reliability of brakes, which is especially important during a quick race. A fake brake pad generally wears out unevenly, which is caused by low-quality material.
Electrical hazards. Counterfeit electrical details are not made in accordance with the standards, which can be a cause for significant fires in vehicles.
Reduced wheel rigidity. Nothing affects your driving action as wheels, which bear the load of the car. Using fake Dodge wheels can be hazardous, especially at high speeds, as they tend to lose their composure, especially under high loads.
FAQ
When you buy Dodge OEM parts, you can be 100% confident about the reliability of original parts that were manufactured and approved by Dodge. All Dodge OEM parts are manufactured by Mopar.
Where are Dodge parts made?
Ram "Classic" trucks are made at the Warren Truck Plant in Warren, Michigan and the Saltillo plant in Saltillo, Mexico. New series Ram pickups are made at Sterling Heights Assembly in Sterling Heights, Michigan. Since its inception, the brand has used the slogan "Guts.
Also, Chrysler 300 and Dodge Challenger, the Charger is manufactured in Canada at the Brampton Assembly Plant outside of Toronto. But no one will deny that some Mopar parts are made in China, but it's a small percentage.
How long does a Dodge transmission last?
Without service and maintenance, some transmissions can fail in as little as 100,000 miles. If you drive around 10-15,000 miles a year, your transmission could be down for the count in seven years! With care and service, transmissions can last 300,000 miles or more.
Ram 1500 pickups have proven to rack up mileage well over 300k miles without major engine or transmission repairs. There is no reason why most modern Ram 1500 engines can't make it past 300k miles with proper preventive maintenance.
The Dodge Reliability Rating is 3.5 out of 5.0, ranking it 19th out of 32 for all car brands. This rating is based on an average across 345 unique models. The average annual repair cost for a Dodge is $634, which means it has above average ownership costs.