| | Brand | Name | Code |
| --- | --- | --- | --- |
| | HYUNDAI | Hyundai | HYUNDAI |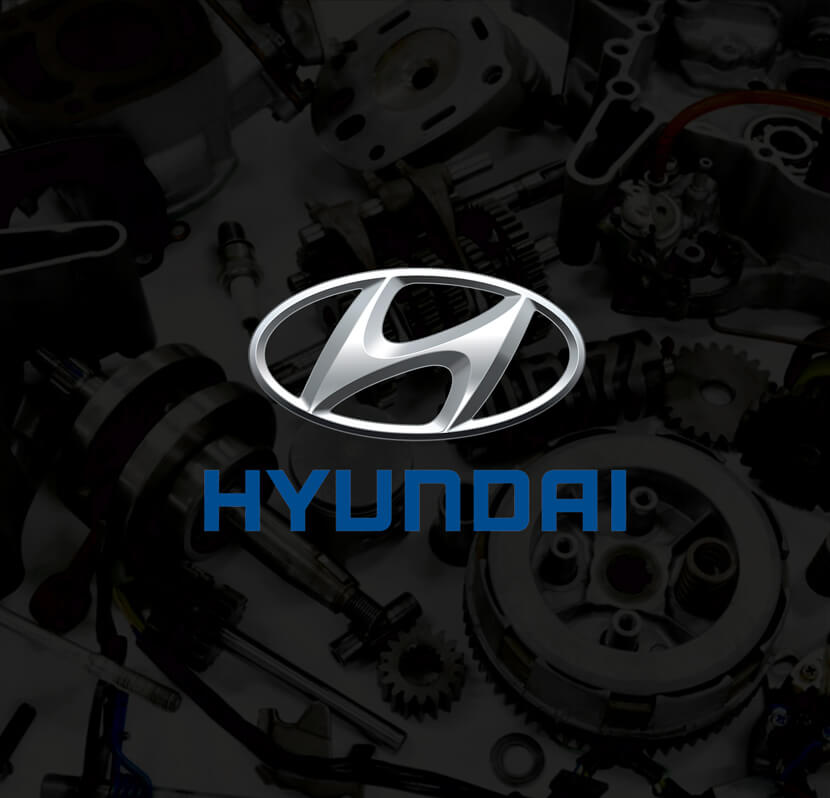 Hyundai parts on PartSouq
A car is a complex mechanism that consists of a variety of systems and assemblies. During operation, a car undergoes maintenance and needs repair when certain parts, such as parts of the engine, transmission, or brake system, wear out or fail. And in any case, there is a need to buy online Hyundai parts. Now the spare parts market offers many parts of different quality and in varying price ranges. As a rule, the buyer is faced with a dilemma, whether to buy original or non-original spare parts.
All original Hyundai parts are distributed by one large Hyundai Mobis, which belongs to the Hyundai Motor Group. The company is engaged in three main areas of development and production of chassis and car bodies, the development of car security systems, and the sale of car parts. Besides, the company provides the entire market with original Hyundai parts for the three South Korean car manufacturers Hyundai Motor Company, Kia Motors, and Genesis Motors.
By buying counterfeit parts, you put yourself in danger and cause costly car breakdowns.
The harm of counterfeit parts is not always clear, but it can have serious and long-term consequences. The fact is that such parts are inferior in quality, which significantly affects the car's condition in the future. As a result, using such components is harmful to your vehicle and puts your life in danger.
Health and life risks:
Counterfeit parts wear out quickly and cause vehicle breakdowns.
Failure to meet the factory quality standards for counterfeiting puts your life in danger.
Financial risks:
The use of counterfeit parts results in costly repairs.
Using counterfeit parts will void your vehicle's warranty.
Why use genuine Hyundai parts?
Many aftermarket manufacturers develop parts designed to fit multiple vehicle models for mass production; this often leads to the fact that the parts are poorly fitted and require some manipulation to secure them.
In the case of buying original spare parts, you get:
Perfect fit. Hyundai engineers have designed each model to match every detail to your vehicle's larger design. The selection of genuine parts ensures that every part works in tandem with each other for maximum efficiency. This selection improves the performance of your vehicle on the road.
Quality. When you order original parts, your part is guaranteed to be in high-quality condition. We are one hundred percent sure of our spare parts! All genuine parts are covered under warranty when you order them from the manufacturer or your local Hyundai representative.
Reliable order. When you order genuine parts from a PartSouq, the process is more than simple. Using part number, you can easily find what you are looking for.
The car warranty cannot be changed. Keep all the benefits of your Hyundai warranty plan. Choosing Genuine Hyundai parts will cost more, but every part comes with a manufacturer's warranty for years to come, and your car will run as smoothly as when you bought it.
So, whether you're driving a new Hyundai model or a used one, Genuine Parts can help you customize your vehicle to your preference while improving performance and durability.
How to distinguish genuine Hyundai parts from fake ones?
Genuine Hyundai parts are manufactured directly by the car manufacturer or by order of the car manufacturer and have a catalog number, the so-called marking. When producing spare parts, the car manufacturer sets the requirements for the production of spare parts and controls their quality; the manufactured products must meet the needs and characteristics of the car manufacturer.
You can distinguish original Hyundai parts from non-original ones by the following features:
First, pay attention to the branded packaging. High-quality spare parts for Hyundai have a very original packaging: a full-size plastic or cardboard box, which guarantees the integrity of the parts during long transportation across cities and countries. These can be sealed boxes or open ones - the manufacturer does not put any restrictions here.
Secondly, you should check the price. Parts cannot be too cheap because only transportation across the mainland costs partners companies a lot of money. If an important part is too cheap, the car owner should refuse such a purchase. It may turn out to be a fake.
And thirdly, there must be special labeling. If the boxes and the price can be faked, then the brand mark will not be created by scammers. If the part does not have a Hyundai stamp in a prominent place, it is a fake that is not worth the buyer's cost. Also, an individual number is stamped on the part itself, which is assigned by the manufacturing plant and the manufacturer's brand.
The structural differences between the fake and the original are:
The company font is not consistent
Incorrect location of markings
Remains of rubber, metal and plastic, excess paint
The font and the quality of the marking are different
Differences in size and weight
We hope our article has clarified why you need to use original parts for Hyundai. Do not forget to use our practical tips to distinguish an original part from a fake one. And to get a great deal on genuine parts for your car, use the PartSouq website.
FAQ
Where can I buy Hyundai parts online?
In our online store, you can buy original Hyundai parts. There you can find quality products that will delight you for years to come.
What are Hyundai Genuine Parts?
Genuine Hyundai parts are engineered to the highest standards. All parts are tested under various simulated extreme conditions to ensure quality, reliability, and durability. You can buy original Hyundai parts in our online store.
Hyundai produces reliable parts for its vehicles. This car brand is economical and reliable. However, some of the required parts may cost a little more than what you can find domestically. Fewer compatible parts are available for most Hyundai models, and import vehicle sizes and specifications are slightly different.
Are Hyundai parts hard to get?
It may be more difficult to find spare parts for old car models that have already been discontinued. But in our online store, you can buy any original Hyundai parts.