| | Brand | Name | Code |
| --- | --- | --- | --- |
| | ISUZU | Isuzu | ISUZU201702 |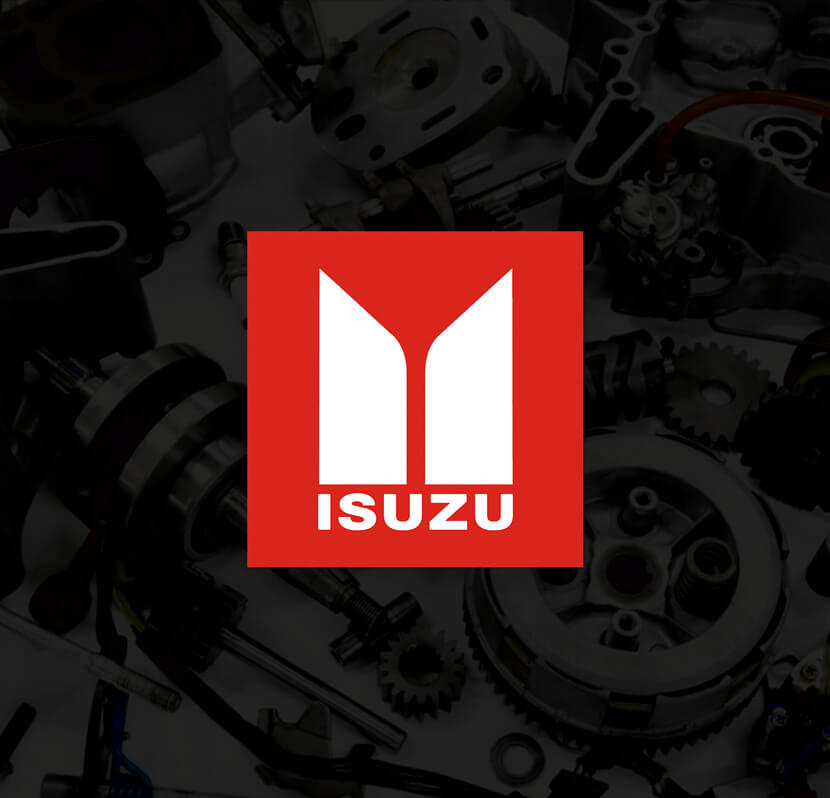 Isuzu parts on PartSouq
Isuzu is an outstanding Japanese automobile company, one of the world's largest manufacturers of medium and heavy trucks. The model range also includes passenger cars and buses. Isuzu's vehicle is known all over the world, has an untarnished reputation and, of course, a high level of quality. The advantages of Isuzu trucks are obvious: relative ease, all-time power, high maneuverability, and convenience on the roads. Cars of this brand are very comfortable to operate both on the highway and in metropolis conditions.
Moreover, Isuzu trucks are best known for conformation with the highest safety standards. They easily bypass any obstacles on the road, whether it is slippery soil or big bumps. Autos have a vast resource, and their parts allow you to maximize the potential of the car. Currently, Isuzu, keeping abreast with modern destinations in the development of the automobile industry, is successfully working on the production of high-quality parts.
Our catalog always has ISUZU original auto parts, which we ship in only 1-3 days. You can order any part online quickly and easily, as our convenient search engine will help you to carry out the correct selection of ISUZU spare parts, even if you do not have special knowledge in this area.
Why use Isuzu parts?
The engines and other Isuzu truck parts are always in demand, and the scope of their application is quite wide. First of all, their motors are equipped with a variety of construction engineering, such as excavators, cranes, mechanical loaders, etc. More powerful diesel engines are used as generator power plants for yachts, tourist and oceanic liners, and even commercial ships. In addition, Isuzu parts are popular in agriculture for relevant machinery. And, of course, a wide range of different parts are used to equip passenger cars and trucks.
Isuzu is known in the global automobile market, primarily as a manufacturer of high-quality diesel engines. Currently, some models of Honda, Denyo, Toyota, Mazda, special technique Hitachi, New Holland, and Airman use Isuzu diesel. Diesel engines for the industrial segment are produced in 5 ranges. There are 12 models of various powers:
Range L - 2.2-liter compact engines. Their power is in the range of 39-43 kW. All models of this range are 4-cylinder vertical aggregates with a water-cooling system.
Range J - Isuzu motors with similar vertical design, but with more powerful opportunities. The power of these engines - 35-46 kW, turbocharged models of this range - 61-95 kW.
Range B - Industrial diesel engines with water cooling system. These are already 4- and 6-cylinder models with a capacity of 92-132 kW.
Range H - 2 types of motors with a capacity of 147-210 kW.
Range U & W is the most serious model with six cylinders and a power diapason of 270-397 kW. The volume of these industrial giants reaches 15.7 liters.
However, diesel is not the only kind of motor from Isuzu conveyors. The company also produces gasoline and gas-power engines. Gas engineering equipment is an advanced direction in the development of a commercial transport market. Economical consumption and minimum emissions make it possible to increase the companies' profits that depend on freight traffic. Isuzu owns the development of the first series of gas engines for large trucks, corresponding to modern international standards - 4HF-CNG and 4HV1. Both models have a contactless ignition system.
Advantages of Isuzu engines:
the minimum amount of emissions corresponding to world environmental standards (Eco-friendly technology);
economical fuel consumption thanks to the Common Rail system;
serious resources of Isuzu engines - up to 1 million km.
The main characteristics of all Isuzu parts are high quality, power, reliability, and, at the same time, efficiency. All details are tested by time in the process of active operation. When manufacturing auto parts, Isuzu pays close attention to the care of the environment.
How to distinguish genuine Isuzu truck parts from fake ones?
To distinguish the genuine Isuzu parts from the fake ones, it is enough to know a few simple rules.
Original spare parts are sold in brand packaging from high-quality cardboard, which should crunch when pressing. There is a brand logo on the package and the name of the brand. The packaging sticker contains information about parts and a unique code of 10-12 digits. The presence of a QR code allows you to check the authenticity of parts through an online service. Genuine Isuzu parts have an impeccable outwall without cracks, chafes, and other defects.
Fake parts are products of independent manufacturers specializing in the detailed assembling of a particular group. Even after a successful installation, fake parts may negatively affect the characteristics and the durability of Isuzu trucks due to differences in the equipment used for its manufacture and processing methods, such as heat treatment.
Fake parts are sold:
on general and automobile markets;
in small auto shops that do not cooperate with large brands;
in the "universal" auto shops.
Fakes are sold in poor quality packaging:
with non-compliance with brand style;
with non-compliance with the color of the original packaging;
without holograms and code.
Fake parts have poor quality:
bumpy weld seals;
foreign interspersing in frictional material of the brake pads;
inaccurate stamping;
permeable glands.
FAQ
Is it hard to find Isuzu parts?
For popular models, it is easy to find almost any part; this also applies to the Isuzu. The main thing is to be vigilant and check the originality of products.
Where Can I Buy Isuzu Parts?
High-quality parts for your Isuzu truck are available on our website in this section. Here are exceptionally original items with reasonable prices.
Are Isuzu Trucks Reliable?
Isuzu trucks are reliable due to high-quality assembly and modern technologies that the manufacturer adheres to. Powerful cars will not fail even in the most difficult road situations.
Who makes Isuzu diesel engines?
DMAX is an American diesel engine manufacturer based in Moraine, Ohio. It is they who are engaged in the manufacture of Isuzu diesel engines.