| | Brand | Name | Code |
| --- | --- | --- | --- |
| | JEEP | Jeep | JEEP201802 |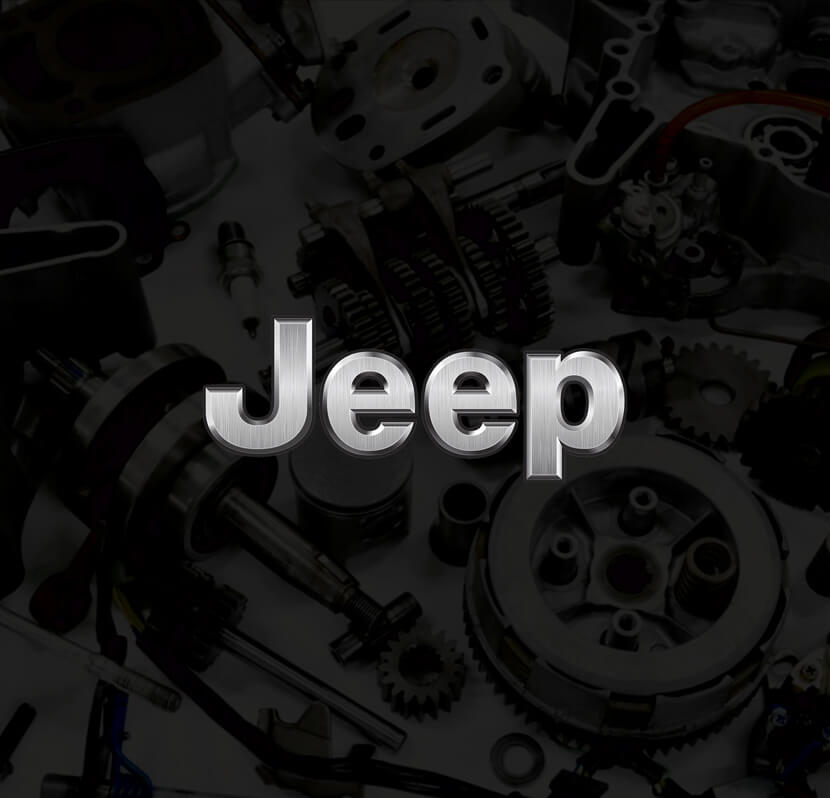 Jeep parts on PartSouq
Jeep is recognized as one of the most powerful SUVs around the world. Cars of this brand have long been the embodiment of the quality of vehicles produced in America. They are combined with strength, comfort, and image. The Jeep brand itself was originally created for military purposes and has respective characteristics:
increased reliability of all parts;
high level of passability;
powerful engine;
spacious body;
You can not just feel comfortable moving between cities or countries, but also move from asphalt roads and go out to places where other cars cannot drive. That is why Jeep always finds its buyers and gives them joy. But for your car to serve as long as possible, you need to change worn-out parts at times. Choose original and high-quality Jeep parts on our site, and it will be the most optimal way of saving your time and nerves. Our company offers all the necessary utilities for legendary auto. With our help, you can choose the details of the original production for repairing and updating your car without spending time on the tiresome search and visitation of the auto parts stores. Our products are genuine, and you will wait no more than 1-3 days for shipping!
Why use Jeep parts?
You should understand that the car is a complex mechanism where an important mission is assigned to each detail. One of the latest innovations, which Jeep cars are equipped with, is the connection of a full drive with an intelligent control system. "Smart" electrical devices analyze information incoming from sensors and adjust the car's mechanisms under the surrounding conditions. That means overcoming all the obstacles arising on the road with the highest possible efficiency and minimum time expenditures, as well as material resources. An additional plus is a complete coupler with a road carpet. High clearance also has its advantages. These are felt not only in suburban conditions but also on pure urban roads with their high borders, speed humps, and unexpected pits; this is a guarantee that on any kind of road covering, you will feel so comfortable and cozy as if the car moves on the perfect autobahn.
Each part of the Jeep contributes to effective car functioning. It is advisable to use only details that work perfectly and cope with high pressure over many years. If you install a low-quality part, your joy will last not as long as you wanted. The main essence is that details of the low level of quality lay out expensive cars. And the recovery or replacement will require significant financial investments. So, the most optimal way to keep savings in this case - the use of high-quality Jeep spare parts installed by an experienced professional.
Advantages of original parts for Jeep:
easy and relatively inexpensive installation;
passing long distances without replacement;
restoring the functionality, reliability, and safety of the car;
How to distinguish genuine Jeep parts from fake ones?
To fully respond to the requests of the car, its power, and operational capabilities, all parts of the Jeep must ascertain the quality by all parameters and sizes. The only option of such conformity is the genuine auto parts. But both on the internet and offline stores, you can face attractive offers for parts or car maintenance. Unfortunately, in some cases, these offers are hidden for fake parts, such as brake pads and discs, filters, belts, clutches, wiper blades, etc. Of course, such products have untrustworthy quality and reliability.
Fake parts for jeeps are assembled by various enterprises. This product is not intended for the conveyor, and the production technology can significantly differ from the one that the automobile factory requires. Among fake parts, there are both the accountable analogies of the originals and parts, quite different from the "relatives". The question is seriously complicated by the fact that a lot of enterprises assemble spare parts all over the world, and the level of production differs everywhere.
All genuine parts have absolute compatibility with the main mechanisms of Jeep cars. The assembly of parts can also be realized in dealer factories. Distinguishing a fake part from the original is not so easy because the fake can be of different types.
Our most important advice will be to contact reliable and trusted dealers. PartSouq cooperates with large companies and delivers spare parts for jeeps and other cars to 160 countries around the world! You can be sure that your parts will be delivered on time and their quality will be of the highest level.
Low-quality and non-original spare parts for a jeep can very soon lead to its breakdown, negatively affect the operation of the car and void your factory warranty. Therefore, it is very important to choose exactly original spare parts for your car.
In order not to get the short end of the stick, you should be extremely attentive when choosing parts for Jeep and contact only verified sellers.
FAQ
Are Jeep parts affordable?
The cost of parts varies. The actual price you can observe on our site. Paying once, you get a guarantee of the full and long-term functioning of your car. In this particular case, it is inadvisable to hold back your savings because we are talking about the safety and comfort of your car.
This is the factory branch of the Chrysler concern and, at the same time, the official supplier of Jeep spare parts. Mopar has a wide range of activities - from the release of original parts and products for tuning for creating racing cars. Representative offices of Mopar already exist in China, Argentina, United Arab Emirates, and other countries.
How long do jeeps usually last?
Jeeps will easily surpass the dreaded 5-year mark, while most cars start to have problems at this point. A Jeep can last up to 15 years. But with great care and maintenance, they can even last up to 20 years.