| | Brand | Name | Code |
| --- | --- | --- | --- |
| | PORSCHE | Porsche | PO701 |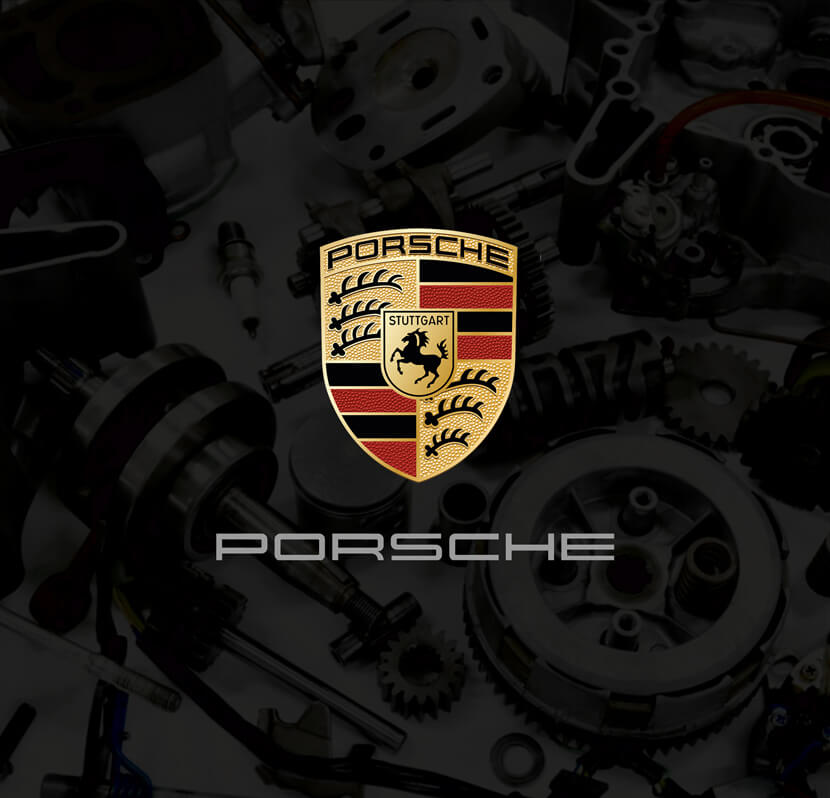 Porsche parts on PartSouq
Porsche is one of the world's elite car brands. But, despite this, like any car, Porsche tends to break down, while high-quality spare parts can be challenging to find. Porsche genuine parts are developed in parallel with the process of creating a car. Consequently, they are optimally adapted to each model and meet the highest quality requirements during production.
Durability and reliability of Porsche genuine parts ensure long service life. Make sure you buy good quality parts for your Porsche car from an authorized dealer. Sometimes it has used elements from scrap cars, but even then, you can always be sure that the parts installed in your car are of good quality. The catalog on PartSouq offers a convenient selection of Porsche parts for the entire model range, which will help everyone, regardless of their level of knowledge. In addition, we work closely with popular manufacturers of components and consumables to guarantee the excellent quality and reliability of the offered auto products.
The Porsche car quality is always the best. This brand is reliable and has a very respectful attitude to every small detail during assembly. That is why it is necessary to purchase spare parts for Porsche only in reliable stores, so your car will delight you every day for a very long time.
Why use genuine Porsche parts?
Porsche is a German automobile company primarily producing sports and luxury cars. This company was founded by the famous designer Ferdinand Porsche in 1931. Vehicles from this manufacturer have won prizes at the most prestigious competitions more than once. However, since 2012, this brand has been wholly owned by the German carmaker Volkswagen. Specialists of the two well-known brands work closely together, develop new designs, and conduct tests.
Porsche cars have gained popularity around the world for their engines, chassis, and great looks. These luxury cars have been in demand by fans of high speeds for many years. Porsche cars combine strength, stylish design, technological advancement, and power as much as their parts. The basis of the company's image is the unique design and characteristics of cars.
The advantages of Porsche cars are:
reliability;
powerful engine;
presentable appearance;
chic design;
high-quality sound insulation;
great dynamic properties;
enhanced security;
stability and maneuverability;
ergonomic interior;
high-quality acoustic system;
continuous engine cooling system;
Porsche produces exceptionally business-class cars, which is why the assembly includes a lot of additional options. They include:
adaptive cruise control;
seat adjustment with memory effect;
separate air conditioning system;
ventilated discs;
active spoiler;
Webasto system;
front and rear parking sensors and more;
Exclusive cars are worthy of only the best parts. High-quality Porsche auto parts purchased from our website are a guarantee that the car will not break down soon. But even such luxurious cars require repair and replacement of parts from time to time.
Why buy only genuine Porsche parts?
The Porsche car manufacturer produces vehicles of various classes. The company aims to meet the needs of many faiths in the population. Among the range, you can find cars from the sports class to powerful and advanced SUVs. Models are produced with excellent technical characteristics and modern design. Porsche carries out this installation in the manufacture of parts. That is why, in the event of a car breakdown, it is recommended to buy original spare parts for Porsche.
When choosing the necessary components from the specialized store's range, it is crucial to consider the following conditions:
Spare parts for Porsche must be original (only the Porsche manufacturing company produces components, taking into account all the features and characteristics of its cars.
Cheap and low-quality analogs will not meet all the requirements of your car); The distributor store must provide a guarantee and the possibility of exchange/return of parts.
You must know in advance the characteristics, description, and appearance of the ordered components.
Despite the impeccable build quality, regardless of the car model, the owner may need Porsche parts over time. In specialized stores, spare parts are usually available, so the client can purchase the necessary goods in stores that provide such an opportunity. However, for a car of such a prestigious class, the spare parts must be exclusively original, which will serve as a guarantee of high-quality repairs and a long service life of the restored systems in the future. If you are going to have your car repaired, we suggest looking through the Porsche spare parts catalog posted on our resource. Using the search, you will find the products you are interested in and the prices for them.
Buy Porsche parts online is offered on the following terms:
Prompt processing of the application;
Affordable cost of goods;
Original products;
Fast shipping;
Convenient search helps to spend quite a bit of time to buy the desired product. You can search for parts by car VIN or part number, which is perfect for OE parts.
FAQ
How many parts are in a Porsche?
Each Porsche car has 30,000 parts in itself, according to its engine size, year of manufacture, and transmission type.
Does Porsche use VW parts?
Yes, but not each of them. Only some Porsche models (ex. Porsche Cayenne) can use the Volkswagen engine. Otherwise, there are exclusive models, which have only their particular parts for sale.
Does Porsche make their parts?
Genuine Porsche Parts are developed and designed by the people who make these vehicles. It means they fit perfectly, integrate seamlessly with all other components, and continue to deliver the performance you can rely on. In addition, our catalog contains many original spare parts with the necessary certification.
Are Porsche car parts expensive?
The cost of spare parts for Porsche cars is correlated with the price of the car itself. Therefore, we can assure you that you will find only high-quality auto parts for your auto on our website. In addition, there are various spare parts in our store, such as candles, pads, filters, oil, headlights, mirrors and much more that you may need.