| | Brand | Name | Code |
| --- | --- | --- | --- |
| | INFINITI | Infiniti | INFINITI201809 |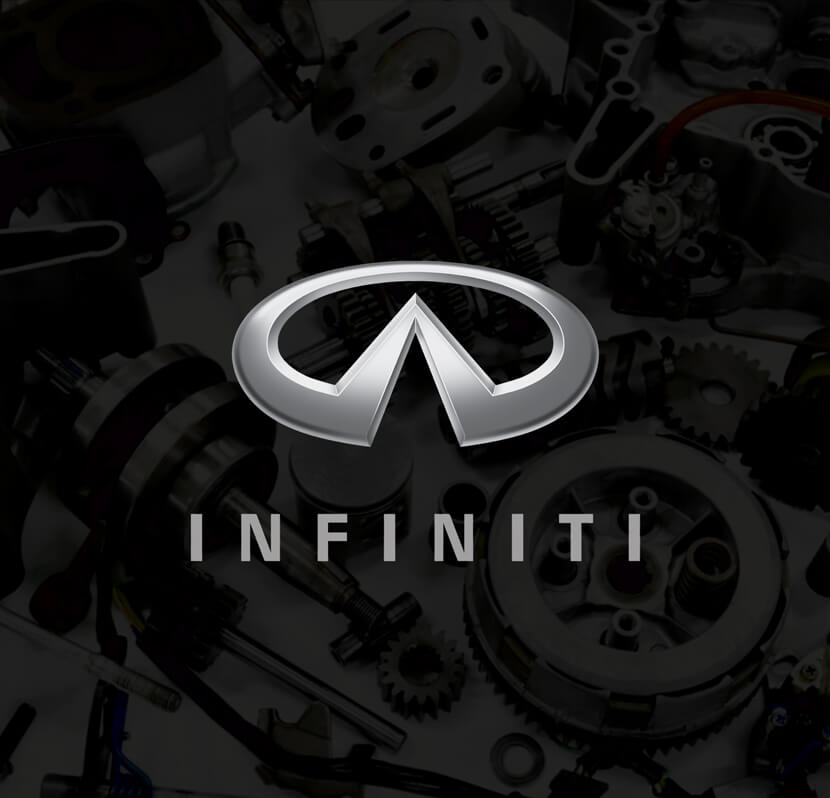 Infiniti parts on PartSouq
Infiniti cars are in great demand; they are perfect cars that give an unforgettable feeling of comfort and safety. The Japanese manufacturer has done everything necessary to ensure that the owner of such a car simply enjoys the ride and does not worry that it needs servicing. However, periodic repairs can still occur. During them, you need to buy original parts for Infiniti; only in this case will Infiniti restore all its previous technical characteristics. Therefore, there is no need to save money on quality; only original parts for Infiniti can be used during repairs or scheduled maintenance.
Infiniti cars were one of those cases when an attempt to produce a luxury car led to the birth of a whole division of a world-famous company and a separate brand. Japanese high-tech equipment, favorably complemented by stylish design and comfort, has won the hearts of fans of luxury cars. Unrivaled design, high performance, quality parts, and driver and passenger safety are what Infiniti is all about. Original parts and components for cars of this brand are distinguished not only by their long service life but also by their high cost. Not every car owner is ready to pay a decent amount for a part that suddenly fails.
For your car to always be in order, buy only original Infiniti parts that you can buy in a licensed online store or from official representatives.
Why use genuine Infiniti parts?
You have chosen a car just because it has an attractive design and incredible performance. It is enough to drive a few kilometers in this vehicle to fall in love with a specific model. Incredible smoothness, pleasant handling, and complete noise isolation make your ride comfortable. But you must understand that even the most advanced mechanisms periodically require maintenance and repair. Some parts simply wear out, so you should buy new parts and replace them to make the car so enjoyable to drive again.
Quality Infiniti parts are tested at the manufacturer's factory. There are specific requirements for the quality of parts on the developer's part, so they grant production licenses only to trusted manufacturers. Using such licensed or original parts, you can be sure that the car will fully resume its functionality at the end of all repair procedures, which were lost due to certain malfunctions. On the other hand, if you buy low-quality parts from dubious manufacturers, then you can create even more problems, and as a result, lose a significant amount of money to solve them.
If you decide to buy original quality parts for Infiniti, it is essential to cooperate with trusted and reliable stores. Only in a good store is the confidence that they are selling you an original quality part, which, during operation, will withstand all possible loads and will not require quick replacement. Furthermore, the seller provides all certificates and quality guarantees since he cooperates directly with the manufacturer and has a dialogue with him in real-time. If you work with bad stores, then there is a high probability that your Infiniti will be equipped with poor-quality parts during repairs, which will make the ride less pleasant and safe, and will soon cause more severe malfunctions.
Benefits of original spare parts:
Easy to install new parts on the other hand.
Quality Infiniti parts can withstand heavy loads.
The previous functionality of the car is restored.
How to distinguish genuine Infiniti parts from fake ones?
Counterfeit parts are an additional risk factor when operating a vehicle. It is not for nothing that a car is considered a source of increased danger. The driver driving it, should pay attention to what is happening around, and not worry when a fake installed in their car fails or how it endures driving in extreme winter conditions or lack of asphalt. A modern car is a product of the long and painstaking work of designers and engineers. All car components were developed, taking into account the projected load and the car's original parts. Replacing original parts with fake ones leads to the fact that the well-coordinated work of thousands of components that make up a car begins to deteriorate.
That is why it is better to take original parts for Infiniti, with which the car will be on the move and will not be in any danger. Now there is a large assortment of original products on the market, among which any car owner can find everything they need for themself. By choosing a non-original spare part, you take the risk that you can get not just a low-quality part but also a potential threat to your car. Non-original models break down quickly enough. They cannot stand stress and are less resistant to damage. At the same time, it will be extremely problematic to prove that it was because of the established non-original part that an accident occurred. Having bought a fake, you can confidently guarantee the fact that you will be denied a guarantee. As a result, this will significantly affect the total cost of repair work for your vehicle.
Original spare parts:
are made with exact adherence to technology and in full accordance with the parameters of your car
provide guaranteed safety for you and your car
design and performance are continually improved during the manufacturing process due to continuous scientific and technical research and testing
each part undergoes multi-stage quality control and is supplied fully certified
have an official guarantee
reduce aerodynamic and acoustic noise and vibration
minimum installation time on your car
will provide your car with a long service life compared to non-original counterparts.
FAQ
Where can I buy Infiniti parts online?
You can buy original parts for Infiniti in online stores that have quality certificates or from official dealers.
Are Infiniti parts expensive?
Prices for Infiniti parts differ from the car model and are relatively expensive.
What company makes Infiniti parts?
In 1989, the largest Japanese and world automaker Nissan began to produce premium-class cars known under the Infiniti brand at its factories. Inspired by the launch of Honda's Acura brand, Nissan and Toyota have also launched their luxury vehicle lines. The same company is engaged in the production of parts for Infiniti.
How long are Infiniti parts guaranteed?
The warranty for spare parts and accessories purchased and installed from an authorized dealer is one year. There are exceptions in the case of replacing a component or components of the main product in case of elimination of malfunctions of a new car under warranty.