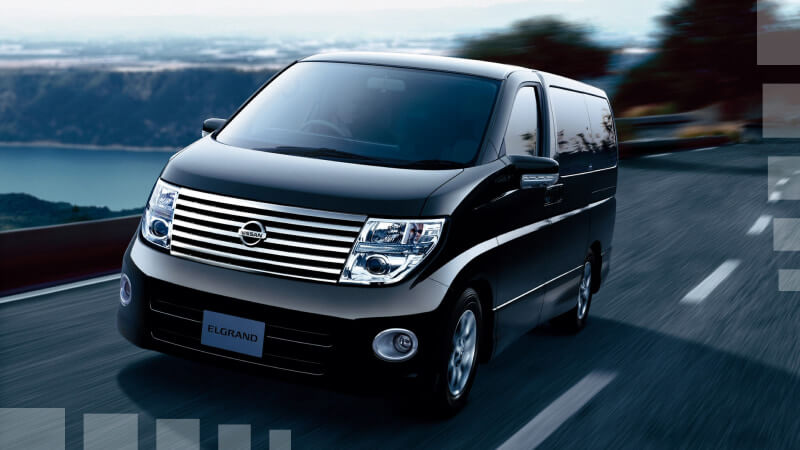 The start of production of the car in question was in 2010. Compared to its predecessor, the 3rd generation Nissan Elgrand is slightly larger, richer, and more comfortable. As if justifying its main function, this minivan offers, in addition to the standard 7 and 8-seater options, also a VIP modification with only 2 rows of seats and equipped with the latest technology.
Cars of this model have always been something of a Rolls-Royce or Bentley in the world of family cars. All materials used in production are of the highest quality. The ergonomics of the cabin are thought out to the smallest detail. The car has many different auxiliary systems that few of its class can boast of. And since the Nissan Elgrand was developed exclusively for the domestic Japanese market, domestic owners also receive unsurpassed reliability as a bonus.
Specifications:
The power units are gasoline, with a volume of 2.5 liters, and with a capacity of 170 hp, or 3.5-liter, having a capacity of 280 or 300 hp;
Transmission: 6 manual or 6 automatic transmission;
Dimensions (LxWxH): 4980x1850x1820 mm;
Drive: front or rear;
Clearance: 150 mm;
Body type: minivan;
Number of doors: 5;
Number of seats: 5, 7 or 8;
Maximum permissible weight: 2400 kg;
Tank volume: 75 l;
The suspension (front and rear): independent, multi-link type MacPherson;
Brakes (front and rear): disc, ventilated.
In this article, we will take a closer look at the advantages and disadvantages of the 3rd generation Nissan Elgrand, which will help you answer the question, "Should I buy this car?"
Advantages of Nissan Elgrand and its OEM parts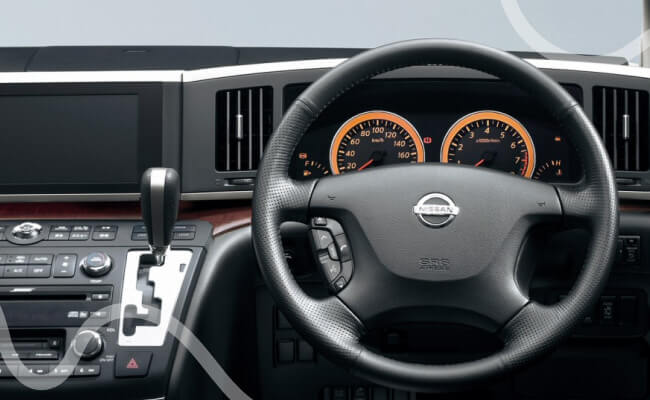 Dimensions. In fact, the first positive side of this car is inherent in all minivans in principle, but the Nissan Elgrand 3 generation of internal space is so big that many competitors will envy it.
Car interior. As mentioned above, Nissan Elgrand, with its OEM parts, is something like a business class for minivans, so the comfort inside the cabin is at the highest level. It is immediately clear that this machine was designed with a soul and a thorough approach to the task at hand.
Comfort. The convenience of the driver and passengers in this car is ensured not only by high-quality Nissan parts and the elaboration of the interior. Important aspects of getting positive emotions from driving are the softness of the suspension, the pliability, and predictability of the steering, good headroom, and quietness in the cabin.
Drivability. Of course, this is not an SUV, and it is better not to try to wade the river on it, but Nissan Elgrand can easily drive where other minivans will skid for a very, very long time. Even though it has the problem of low ground clearance (only 130mm), due to the plug-in all-wheel drive and traction control system, it copes well on some difficult road sections.
Interior heater. Let's take into account the reviews of the owners. One of the important Nissan parts, the cabin heater, can turn the car atmosphere into a real resort even at a temperature of -40 ° C, which is very important for various countries with cold climates.
Visibility. The side pillars are located so that they practically do not obstruct the view on the car's sides. Large mirrors greatly help in changing lanes and parking. And various auxiliary systems (rear-view cameras, parking sensors, etc.) will signal that the driver may not see behind large dimensions of the car. Thanks to all of the above, the operation of this huge car on the streets of large cities does not cause many inconveniences.
Appearance. It is immediately evident that very gifted designers had a hand in the appearance of the parts of this Nissan. Interesting body shapes and lines, a formidable radiator grille, a sporty-looking bumper, beautiful optics, and a futuristic-looking tailgate attract many surprised looks on the city streets.
Dynamics. Even with the base engine, which has a power of 170 hp. and 250 of torque, this family car accelerates very vigorously in almost any rev range due to continuously variable transmission. We also want to highlight more powerful modifications with 280 or 300 hp.
Disadvantages of Nissan Elgrand and its OEM parts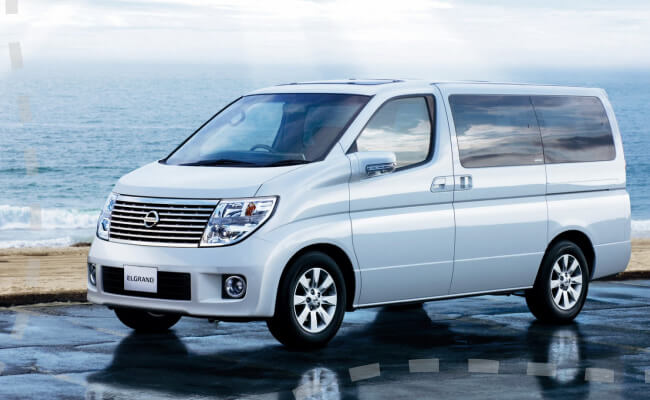 The main disadvantages of this Nissan are:
Low ground clearance, therefore, breakage of the lower part of the bumpers of this Nissan is a very common occurrence;
High fuel consumption;
Right-hand steering;
Some difficulties in finding spare Nissan parts, so use PartSouq to find them online.
Difficulty selling;
High price, but by ordering Nissan parts online, you can save money.
Variable speed drive.
If you sensibly evaluate all the pros and cons of this car, then there are definitely more pluses in it. The only thing that can cause some trouble for the consumer is the right-hand drive and even overly powerful engines, which do not allow Elgrand to be called an economical car. Perhaps this problem could have been solved by installing a hybrid power plant, but the manufacturer considered that the hybrid would not receive proper attention from buyers, so we have to be content with what we have.
If you value comfort, reliability, excellent dynamic performance and do not spare money on gasoline, then buying a 3rd generation Nissan Elgrand will be a pleasant discovery for you, especially if you have never driven real Japanese cars before. But in order to get the most positive aspects from using any car, you should pay attention to car maintenance. To keep the Nissan in top condition, use only OEM parts, which you can purchase on PartSouq online at attractive prices.
Is Nissan Elgrand a good car?
Nissan Elgrand is a good car for those who value Japanese reliability and a comfortable ride. Together with OEM parts, this Nissan can provide its user with an extremely positive driving experience.
Is Nissan Elgrand expensive to maintain?
Today it is not very easy to find OEM Nissan Elgrand parts due to which they have a higher price, but if you buy online on PartSouq, you can make your purchase easier and save money.
What is the weight of a Nissan Elgrand?
Nissan has such weight characteristics:
Kerb Weight: 2010 kg 4431.29 lbs.
Max. weight: 2450 kg 5401.33 lbs.
Max load: 440 kg 970.03 lbs.
Fuel tank capacity: 76 l 20.08 US gal | 16.72 UK gal